Miss FD & Vulture Culture Release Their New Song "Faster Than Light"
October 2, 2020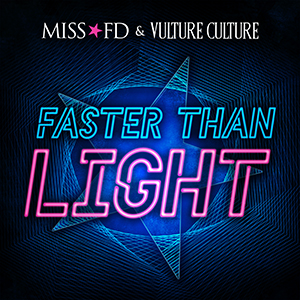 October 2nd, 2020 - Miss FD joins forces again with dark electronic music artist Vulture Culture on a new song
Faster Than Light
.
Working together on previous songs such as
Spitfire
and
Ashes of Stars
, Miss FD and Vulture Culture's newest collaboration takes them to different territory.
"We were inspired to try something a bit different for Faster Than Light. We wanted to experiment within a different genre, and as we worked on the song, we developed a heavy EDM sound for it. Once we finished the song, we knew it fit the concept for Faster Than Light perfectly"
, comments Miss FD.
Alex Dalliance of Vulture Culture adds...
"It was exciting to step outside of our "Synthpop/Industrial" comfort-zone and try some new synthesis techniques to make something evolving and massive-sounding."
Faster Than Light
is out now through Quantum Release Records, available worldwide on all major streaming outlets. You can stream or download
Faster Than Light
from
iTunes
,
Bandcamp
,
Spotify
and other digital media carriers.
The lyric video for it can be seen below.
PERMALINK: http://www.missfd.com/2020/10/02/2382