"Wild Ride": Collaboration Song by PSY'AVIAH and Miss FD Featured on "Seven Sorrows, Seven Stars"
April 8, 2016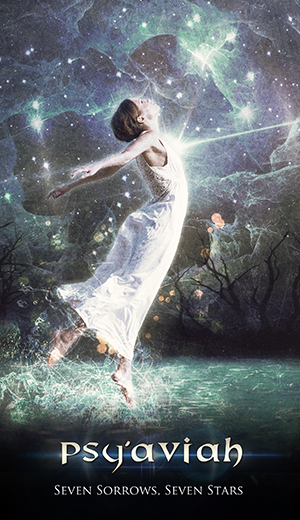 When titling his new album "Seven Sorrows, Seven Stars", multi-talented Belgian artist Yves Schelpe cast some kind of magic on PSY'AVIAH's impressive music repertoire, opening a new mysterious gate full of wonder and euphoria… On this (magic number!) 7th full length release, PSY'AVIAH creates some distance from its darker roots taking us towards more joyful and positively driven atmospheres while keeping his unique emotional and almost ghostly creative touch intact. The lyrics deal more this time with magic, wonders and mysteries, and beautifully match with the band's characteristic sound-mix of futuristic electro, moody trip hop, floating ambient, and other groovy eurodance.
"Seven Sorrows, Seven Stars" is an album that speaks to both body and mind. You can dance to it all night or enjoy it in full simplicity with candles on for some positive moments with friends... PSY'AVIAH delivers a true chef d'oeuvre full of emotional contrasts and dynamic vibes, capturing irrational moments of life across the universe.
Seven Sorrows, Seven Stars is to be released by
Alfa Matrix
on April 15, 2016.
Miss FD vocals and lyrics are featured on the track "Wild Ride"
, with special remixes of this track featured on the 2CD deluxe edition.
For more information on PSY'AVIAH's
Seven Sorrows, Seven Stars
, please visit
www.psyaviah.com
Track Listing
.........................................
CD 1
01. Seven Sorrows, Seven Stars
02. Alcubierre Drive (feat. Kyoko Baertsoen)
03. Face to Face (feat. Roeland van der Velde)
04. Looking Back (feat. David Chamberlin)
05. Lessons From The Past (feat. Mari Kattman)
06. From Another World (feat. Bernard Feron)
07. Never Look Back (feat. Ellia Bisker)
08. Opia (feat. Pieter Van Vaerenbergh)
09. Frozen (feat. Andrew Galucki)
10. Liberosis (feat. Alvin River)
11. Peace Paradox
12. Not What I Expected (feat. Fallon Nieves)
13. Stronger (feat. Addie Nicole)
14. Wild Ride (feat. Miss FD)
15. Starstruck (feat. Diana S.)
CD 2
"From A Different Perspective"
: Bonus disc only available in the limited carton box edition
01. Peace Paradox (Etasonic remix)
02. Wild Ride (feat. Miss FD) (Alex Dalliance remix)
03. From Another World (feat. Bernard Feron) (Skyshifter remix)
04. Face To Face (feat. Roeland van der Velde) (People Theatre remix)
05. Opia (feat. Pieter Van Vaerenbergh) (Liquid Divine remix)
06. Stronger (feat. Addie Nicole) (Tim Iron remix)
07. Not What I Expected (feat. Fallon Nieves) (Cutoff:Sky remix)
08. Wild Ride (feat. Miss FD) (VV303 remix)
09. Face To Face (feat. Roeland van der Velde) (rool remix)
10. Alcubierre Drive (feat. Kyoko Baertsoen) (KONER remix)
11. From Another World (feat. Bernard Feron) (Cyborgdrive remix)
12. Wild Ride (feat. Miss FD) (Girlflesh remix)
13. Not What I Expected (Implant remix)
14. Wild Ride (feat. Miss FD) (Amarta Project remix)
PERMALINK: http://www.missfd.com/2016/04/08/1989