"Unraveling" - Miss FD releases new goth-rock single produced by Robert Dante
October 1, 2014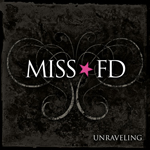 This year's October treat comes in the form of a new single release by Miss FD for the track
"Unraveling"
.
"Unraveling"
was produced by Robert Dante, who previously contributed a haunting piano performance for Miss FD's 2013 single release of
"Cry For You (Haunted)"
, and also contributed with his devious guitar work on Miss FD's 2012 release for the track
"Infatuated"
.
"Unraveling"
was recorded and produced in Miami, Florida and is available as a digital release from
iTunes
,
Amazon.com
,
Bandcamp
, Spotify, and other digital music outlets.
PERMALINK: http://www.missfd.com/2014/10/01/1828