Miss FD Releases New Three-Song EP "As Above, So Below"
February 11, 2022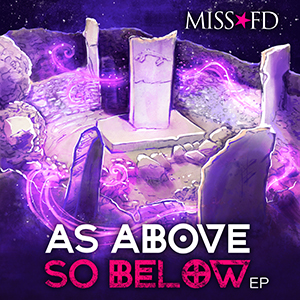 February 11th, 2022 - Ft. Lauderdale, FL - Gothic, electronic, and overall sonic witch Miss FD has released her brand-new dark pop EP
As Above, So Below
.
Influenced and inspired by Gobekli Tepe, a Neolithic archaeological site near the city of Sanliurfa in Southeastern Anatolia, Turkey,
As Above, So Below
sees Miss FD pushing her musical prowess to new heights.
Ancient middle eastern textures roll through the EP, combining Miss FD's hypnotic voice with mystical legends. The result is an EP that gets you onto the dancefloor as it reminiscences on mysteries of the past.
As Above, So Below
is available now and can be streamed / purchased via your favorite retailers below.
SPOTIFY | APPLE MUSIC | AMAZON | BANDCAMP
PERMALINK: http://www.missfd.com/2022/02/11/2440