August 13, 2017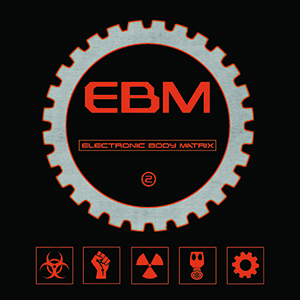 A brand new collaboration track by
Vulture Culture
and Miss FD "New Era" is featured on "Electronic Body Matrix 2" by Alfa Matrix.
The massive 116-track "Electronic Body Matrix II" 4 CD Boxset (+ bonus downloads) will be released on October 13, 2017 and is available now for pre-order via Alfa Matrix.
You can get your copy here:
http://alfa-matrix-store.com/various-artists-electronic-body-matrix-2-4CD-boxset
Tracklisting
EBM2.CD1
NZ . S.F.R.Y.
[SITD] . Post-Factual Age
ELM . Kampftrinker (schlacht!-mix)
AGREZZIOR . Run
CELLULOIDE . Gris (virusse par ORANGE SECTOR)
ELEGANT MACHINERY . I Say
ENTRZELLE . Steadily Losing Faith
MONDTRAUME . All You Cannot See (CRYTEK mix)
THE PSYCHIC FORCE . Die In The Clinic (EISFABRIK mix)
FUNKER VOGT . Der Letzte Tanz (kurzmix)
CEPHALGY . Got Maschine Vaterland (single edit)
FREUNDE DER TECHNIK . Nachher Ist Man Immer Schlauer
BRUDERSCHAFT . falling (PLASTIC NOISE EXPERIENCE mix)
DREAM RECALL feat. MONDTRAUME . Reasons To Die
THIRD REALM . Command And Conquer
PITCH YARN OF MATTER . Faults
ELEKTROKLANGE . Heimkonsole (mehrsprachige version)
METROLAND . Cube (matrix mix)
DIVE . Far Away
EBM2.CD2
ORANGE SECTOR . Heute Liebe Ich Dich
ALIEN VAMPIRES . Rave To The Grave (NZ mix)
POUPPEE FABRIKK . Watch Your Sex (2017)
IMPULSKONTROLL . French Evulutionen
FIXMER / MC CARTHY . Chemicals
KOMOR KOMMANDO . Music Is My Religion
AESTHETISCHE . Gone Tomorrow (hard mix edit)
R.I.P. (ROPPONGI INC PROJECT) . Havoc
NOISUF-X . Banzai (tenno heika)
ORPHX . Zero Hour
DANIEL B. PROTHESE . (sar+(-(_x x)')))
NEON ELECTRONICS/NE . 157
ENZO KREFT . We're Breaking Out
IMPLANT . The Telephone Call (ELM mix)
AD:KEY . Du Bewegst Dich Nicht (body matrix edit)
PATENBRIGADE: WOLFF . Der Brigadier Trinkt Bier (DBtinB! mix)
ACCESSORY . Ship Of Fools (CEPHALGY mix)
JUNKSISTA . How Deep Is My Love
ELECTROGENIC . Skills (radio edit)
EBM2.CD3
CRYTEK . Anathema
MILDREDA . Neon Eon
AVARICE IN AUDIO . Lies To Me
HOCICO . In The Name Of Violence (FADERHEAD mix)
ARMAGEDDON DILDOS . Intimidated
KANT KINO . Children In The Park (sinna acid)
KONER . Babbie (short edit)
FORMSHIFT feat. NEON ELECTRONICS . What We Want (NOSEDA dark techno rework - radio edit)
RHYS FULBER . Minsk Maschinen
NOVO . The Shortwaves (COMMUTER mix)
FRONT 242 . Take One (KOREA HUNTINGTON remix)
DEUTSCHE BANK . Unterwegs In Meinem Saab (FROHM mix)
THE ELDRIDGE EXPERIENCE . Cigarette Burns (valerie the lustrous love machine mix)
LIGHTS OF EUPHORIA . Blood On The Floor
SPETSNAZ . Free Fall
DIFFUZION . Blessed (power mix)
AUTODAFEH . No Future
THE SEXORCIST . Minimal Komplex
CULTURE KULTUR . To The Unknown Soldier (lost generation mix)
EBM2.CD4
NEUROTICFISH . Is It Dead
NITZER EBB . Down On Your Knees (KANT KINO mix 2017)
HUMAN STEEL . Steel And Hammer
TOLCHOK . Man Is Evil (2017)
BODLARNA . Fakir
PIONEROS CANO . Das Artefakt
MISS FD feat. VULTURE CULTURE . New Era
AMORPHOUS feat. Torsykes . Brave New World
PSY'AVIAH feat. Fallon Nieves. Reboot Reset Relay (matrix edit)
AYRIA . Crash And Burn
STOPPENBERG . Fearless
CENTHRON . Blitzkrieg
LLUMEN . Force Of Nurture (MILDREDA mix)
VENAL FLESH . corrupted Wetware
PROTECTORATE . Infocon
CARDINAL NOIRE . Narkomat
PLASTIC NOISE EXPERIENCE . Struggle
AIBOFORCEN feat. KANT KINO . Etching Herself In Acid (matrix edit)
SPOILED POISONED . Heart Sync
The exclusive bonus download link included in this 4CD box also gives you access to some 40 additional songs from artists like MENTALLO & THE FIXER, ACYLUM, SERPENTS, ZOMBIE GIRL, AENGELDUST, EQUITANT, NETZ, STUDIO-X, SIVA SIX, NEIKKA RPM, ESSENCE OF MIND, DEKAD, INTERFACE, NEUTRAL LIES, CIRCUITO CERRADO, TRAGIC IMPULSE, WANT/ED, HELALYN FLOWERS, DIVERJE, SCHWARZBLUT, TOTEM OBSCURA, DIGITAL GEIST, KILMARTH, SIGNAL OPERATOR, ELECTRO SYNTHETIC REBELLION, DIGITAL GEIST, TECHNOID, DEN C.T. BUG, and many more!