Miss FD Reveals Album Cover for Upcoming Studio Album - Transcendence - Out March 27th, 2018
February 15, 2018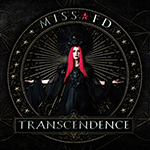 February 15th, 2018 - Miss FD has revealed the album cover and track list for her 4th studio album
"Transcendence"
, scheduled for release through Quantum Release Records on March 27th, 2018.
The artwork for
Transcendence
features photography by Chad Michael Ward and graphic design by Joshua Smith.
Transcendence will feature seven new compositions and is available for pre-order through
PledgeMusic
.
Transcendence Tracklist:
01. Despair
02. Vagaries
03. Delirium (feat. Vulture Culture)
04. Little Galaxy
05. Transcendence Intermezzo (feat. Robert Dante)
06. All the Pieces
07. Icarus
Release Date: March 27, 2018
Type: 4 page digipack + 12 page booklet
Label: Quantum Release Records
Order Number: QRR015
UPC: 888295674195
Pre-Order:
PledgeMusic
Miss FD will give a taste of her upcoming album by releasing a music video for the track
"Despair"
on March 9th, 2018, directed by Chad Michael Ward.
You can view the 30 second video teaser here:
PERMALINK: http://www.missfd.com/2018/02/15/2105